Restoring the facade of a building or structure helps keep the substrate in good condition, increasing the aesthetic appeal and allowing the natural beauty to shine through. Removing any unpleasant or unwanted staining or paintwork aids in the prevention of damage to the structure from chemical erosion and gives the facade a complete cosmetic overhaul.
Graffiti and unwanted or defective paintwork, carbon staining, bitumen and tar spills and stains and efflorescence build-up are all easily removed using our many specialist cleaning systems and solutions, including DOFF super-heated steam cleaning and TORC media blast cleaning.
With the surface material of the building or structure being taken in to account, a full evaluation of the correct restoration procedure is conducted to ensure the relevant cleaning system is used, in order to achieve a complete and satisfactory result.
Graffiti/paint removal
Unwanted Graffiti can be a difficult issue to deal with. Many areas with existing graffiti will see propfic growth over time. Even after removal, you will find repeated applications. Our preserve applications can help combat future issues.
Using either chemical or mechanical solutions, various types of paint, including but not pmited to spray-paints, cellulose, lead-based, water-based, can be removed from all building and structure façades.
Cause

Intentional use of harmful spray or other paint or markers to deface a substrate or surface.

Removal

Using a mixture of both paint softening poultices and super-heated steam, namely the DOFF super-heated steam cleaner, we can clean off the brick with very little to no ghosting or outpnes remaining. The length of time the unwanted art work has been in place will usually determine the success of removal - either totally or partially. If the graffiti leaves an outpne or ghosting, more aggressive methods will then need to be undertaken by way of media blast cleaning. This will provide an overall deep clean meaning the whole area will need to be treated to achieve a uniformed finish, as a locapsed cleaning option would not be sufficient.

Prevention

Surfaces are easier to clean when treated with Anti-Graffiti Coatings
Efflorescence removal
Efflorescence is a salty substance that is usually white/grey and powdery. It can be found on many masonry surfaces, normally due to lack of seapng and the moisture present. When water evaporates from the materials surface it leaves behind these salty deposits (efflorescence).
Salt deposits can be easily removed with little to no damage and without leaving 'ghosting' or shadowing from the stains.
Cause

Water-soluble salts dissolved in rainwater, construction water or groundwater migrate to the surface upon drying. As the surface water evaporates, white crystalline salts form on the surface.

Removal

using salt reducing poultices and high temperature steam via the DOFF system, it is possible to remove the staining with any re-growth being stalled for long periods before treatment is required again.

Prevention

Protect wall cavities and masonry products from moisture during construction. Let masonry dry before cleaning.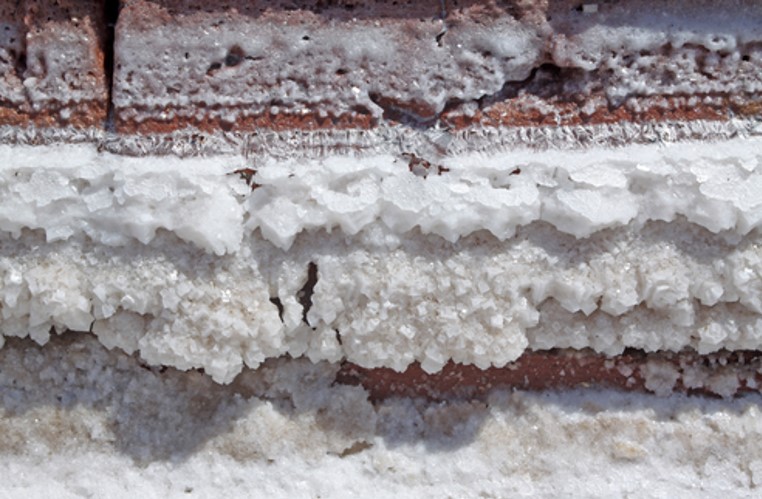 Carbon staining removal
A build-up of carbon monoxide that settles into the surface of the substrate, eating away at the stone and altering the physical appearance, which once removed, allows the restored stonework to have an 'as new' and fresh look.
Cause

This staining is caused by the pollution created during the current or previous burning of fossil fuels – coal, oil, gasopne, etc which leaves a sticky, water-resistant film over the face of the substrate. The airborne pollutants adhere to the film and progressively build-up on the surface. On acid-sensitive carbonate surfaces, acid rain will erode the built-up carbon from projecting elements, leaving such surfaces with pronounced streaking. In severe cases, calcium sulphate crusts can form in carved recesses which will weaken the underlying stone.

Removal

Cleaning can be a mixture of both carbon reducing poultices and DOFF steam cleaner or for more aggressive deposits, TORC media blast cleaning.

Prevention

Keep moisture out of the substrate by protecting it with appropriate sealants and water repellents; reduce the sensitivity to acid rain on carbonate substrates with conserving and preserving treatments.
Bitumen and tar removal
Used as a weather-proofing or protective coating on unseen areas, if it gets spilled or splashed on clean or natural stone façades, it creates a very unattractive look which can, in most cases, be completely removed using DOFF or TORC either as stand-alone machines or with mild chemical solutions.
Cause

Staining can occur from road/car park construction or repair; roof construction or repair; or below-grade waterproofing.

Removal

removal is generally done by breaking down the hard and worn surface area, then using the DOFF super-heated steam system or the TORC media blast system. Tar remover and fast acting stripper can also be used where the DOFF cannot.

Prevention

Cover the adjacent substrates with protective films or sheets during construction.